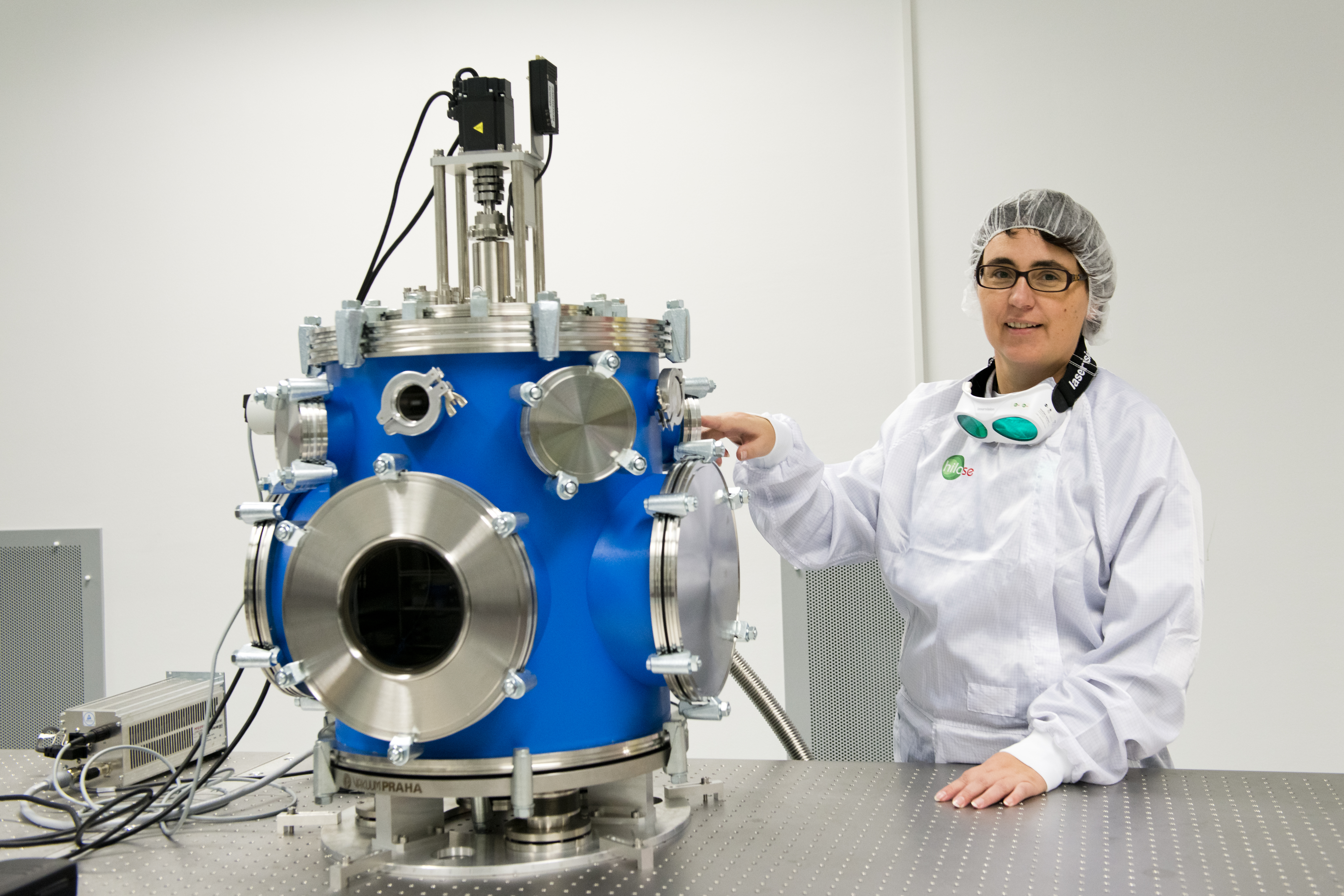 I see you have a lot of experience with moving countries! What was it that led you to move around so much?
One thing is that, in the European Union, we "third country people" are not allowed to get permanent jobs. You always need a new permit, and many countries have a limitation on how long you can stay, for example in Germany they were starting to push me to have C1 level German, even though I didn't need German for my daily work. So it can be difficult to stay in one place for long.
The other reason is that I like to have new challenges; as soon as jobs start to be boring, I need to move. When I was in China I was very excited for two years, because we had to build a completely new factory from scratch, but once it started working, it wasn't for me. I don't like routine much, I like doing new things.
And that's why I moved here, because if there's something challenging in Europe, it's HI-LASE! The laser technology, the publications, everything about it is challenging.
How did you find out about the HI-LASE project?
I met some people at a conference who put me in touch with the project coordinator. I came to meet him when he was preparing the first phase of the project application, and we agreed to stay in touch and that once he had the project ready and needed me, I would move to Prague. So as I finished my project in Ireland, two years ago, I moved to the Czech Republic.
What were your expectations about the move to the Czech Republic?
When I came to visit, I was really amazed by the town; I was expecting an Eastern European country, slow moving, with a complaining and blaming culture, but it was not like that. Having moved so much, I've become very quick at getting the feeling whether something is going to be good for me or not, and I realised immediately that I would get along with the project coordinator, that I would have a lot of flexibility and support in the job, and that I like Prague. I was keen that my daughter would finally see snow, too, because she didn't yet know what that was!
When we came over for my interview it was very funny, because my daughter came out of the metro at Muzeum, looked around, and said "that metro was very strange, we left Prague and now we are in Belgrade", it looked so similar to her! So we had the feeling we were moving to something familiar, homely, and the people are very friendly. Even when people don't speak English, they will always try to help you somehow.
And when you moved, how easy did you find it to do the paperwork?
I think the worst country I've lived in for paperwork was Belgium, where they required me to prove that I don't have AIDS or Hepatitis C, that I have never used drugs, that I didn't have a criminal record and neither did my family members, and that I didn't take part in the war. Compared to that, the Czech Republic was not so complex. The only difficulty was having to translate everything into Czech, but the Czech Embassy in Dublin was very helpful, because they had an official translator for that. Then EURAXESS helped me – we were in contact while I was still in Ireland, and when we arrived they took us to the offices, and so on. Mind you, in the two years we've been here no one has ever stopped us or asked to look at our passport or anything, so I don't know why we have all those papers!
Did you already know about EURAXESS before this move, or did you discover it this time?
No, in other countries I never found anything like it. I think I found out about it because the HR staff dealing with my appointment were in touch with EURAXESS about the procedure, and I was fairly sure they had misunderstood something, so I asked them to put me in touch with EURAXESS directly and it was much better that way.
Apart from the visa help, did you get any other assistance from EURAXESS? Czech classes, perhaps?
No, I haven't been to the classes, but I receive a lot of informative emails, and also when I was looking for a school for my daughter, EURAXESS gave me a list of schools and some advice. They also helped with the paperwork for medical insurance for my daughter, because my first understanding was that I have to pay for private insurance for my daughter, but in fact that that's not the case, because we had come from another EU country.
Did you find it easy to find a place to live in Prague?
Very! Because I was moving with a small child, I first had to look for a school, and once I'd found a school, then I had to look for an apartment. When I came over, I visited two schools, and someone from EURAXESS went with me. Czech schools have to accept non-Czech pupils, and the two schools we visited in Prague 8 said that they could take my daughter, but they couldn't get a teacher who could teach her in English until she was fluent in Czech. So we decided to go for an international school, and I looked at a few that I could afford. Once I'd found a school that looked OK, I started looking for a place to live. I didn't want to live in the centre, because I wanted it to be a quiet area, and I wanted some green space. Prague 8 was ideal, and there was a new building coming up there – in fact I was the first person to move into it! It's managed by an agency, and communication with the landlord via the agency is very smooth. Of course, I pay an agency fee, but it was very easy – I just looked on the internet, found the apartment, called the agency and arranged everything with them.
Tell me a bit more about your daughter – how old is she now?
She is eight now, and she was six when we moved. She used to go to an international kindergarten in China and then she was in Ireland with me, so she is completely fluent in English, the other languages she speaks are less fluent. She is trying very hard to learn Czech, but it's very difficult for her. She goes to an international school, where she is taught in English, and then she goes to music school, which is in Czech, but they recently sent her guitar teacher to learn English, in order to communicate with her more easily! The only difficulty is the theory class, but her babysitter goes with her and makes notes, in Czech, and then helps her study afterwards.
I have been discussing with the school about the possibility of some Czech lessons for her, but maybe that's something that EURAXESS could try to do, to organise some Czech lessons for kids. It could help others too – I have a colleague in my group who has two girls who also go to an international school.
Did you think of schooling her in Czech? – children learn very quickly at that age!
Yes, the only problem is that it's then a problem for the parents, because these days parents have to help children, with their homework and so on. There is one school, which I think is semi-private, which teaches half in English half in Czech at primary level, something like that would be ideal I think.
How do you find Czech culture?
It's amazing. I like the addiction to music, and that people will dress up even for small concerts as if they were going to the Met. That kind of respect for musicians is wonderful. We also went to a ballet, and I thought it would be boring for my daughter, but she was gripped for two hours – just amazed at it. In Prague there is so much on, every day. Usually I have a look on Friday at what's on, and choose somewhere to go on Saturday. There are also a lot of activities for children, some are in Czech, but sometimes that doesn't matter because it's fun for her anyway. We often go exhibitions, and especially to the Technical museum, because my daughter really likes that one. She likes the observatory on Petřín too, they always have some programmes for children, even in English.
Do you go outside Prague to visit things too?
Yes, we try to travel somewhere in the Czech Republic every time we have a short holiday. My favourite part of the country so far is down to the south, around Český Krumlov, I would like to go there again. I still haven't tried the spas either – I'm waiting for my Mum to come so we can visit some of those.
And do you and your daughter like the Czech food? Is it similar to your home cuisine?
There are a few differences – the Czechs don't eat fish much, and buying fish here is sometimes difficult. There is not much lamb in Prague either, so my daughter misses that. In general, we like some of it, but not all! I don't eat pork – just because I don't like it – and because of that we are a bit limited when it comes to Czech food. But the meat in Czech shops is high quality and you can make good food with it. Food is not expensive here, and we like to collect recommendations from Czech people about restaurants to go to. I don't drink beer, maybe that's a big minus for me, and wine I like but I mostly like wines from Australia, or Argentina. I don't like the Czech wine so much, but we tried the "young wine" (burčák) recently, and it was very good. One of my colleagues lives in a village where there was a wine picking festival we visited, it was really good.
In terms of making friends, have you found it easy to settle here?
It's very easy. The problem with us scientists is that we don't have so much free time, there is always something to do. But I'm part of a couple of "mum clubs" with small children. There are a lot of children here that are bilingual, with Czech and English speaking parents, so it's not difficult to find this kind of community to go and play and have some fun with. I like to spend time with my daughter at the weekend, and sometimes we meet up for a couple of hours with other people, otherwise we usually walk around the town, go to the theatre, and so on.
Do you think you will stay for a bit longer?
I would like to! I am investing a lot of my time and energy getting HI-LASE working because I don't want to move any more. I don't feel like a foreigner here, which I did in the other countries. I felt people there would look at me wondering when I would leave, but here I don't have that feeling, I feel welcome. It's true that when we started working, some people were a little wary, sceptical, but now they have started call and say "I would like to do this or that with lasers, can you try it out for me?" or "I heard from someone that this is possible with a laser, can you help us, can we do a project together?"– something is really changing. When I arrived most doors were not closed, but were only slightly ajar – now they are much more open.
And in terms of your work and this communication within the science world, do you find the people are happy to speak English?
Yes. I mean, Physicists always need English, and many of our students learn it by doing – they had some basic English at school, and at the beginning it can be quite difficult for them, but after some time they get used to it. Some people are quite surprised that HI-LASE is almost completely English speaking, you don't hear anyone speak Czech, usually.
And how's the paperwork side of things going for you now – are there things you still find difficult for foreigners here?
Yes, doctors! For my daughter it was easy because my colleague had already discovered a good doctor, and we went there. Many people might not like that doctor, because she charges you a fee per year, to be accepted. I don't know if that's really allowed, but if I have to pay 5000 CZK per year to get someone who can communicate with me and my child, when she is sick, then I will pay it. For me, it was much more complex. The Institute of Physics had a contract with a doctor who promised to speak English, but when I went there he refused to speak English at all. Then I found one very good English-speaking doctor, but she too charges a fee on top of your medical insurance. Something I found strange here was that it was difficult to find a dentist specialised in children's dentistry. Most will accept children, but are really adult dentists. Eventually we found one though, and she is excellent and speaks five languages!
Nowadays we don't have any big problems. Maybe I would move to a bigger apartment sometime, but for now it's OK. I'm also looking for a way to reduce my commute, because at the moment it takes me two hours every day to go to work and back.
So do you think you might move closer to your work?
I don't think so, because we live within walking distance of the school. Also, living in Prague 8 is much easier for babysitters too, if I moved far away it would be harder for the students.
Were you able to find a babysitter easily then?
I think I was lucky. One of my students has a girlfriend whose sister was looking for that kind of work. I trust her completely, and she always has new ideas for activities, she is very active and keen, it is great. I think we are very lucky, because a lot of people find it hard to find a good babysitter and for a long time. In fact, I pay a bit more than the market rate, to keep her. I think it is worth it, I am happy with her work.
Does she help a bit with the Czech as well?
She tried, but she was afraid that if she pushed my daughter too much with the Czech, it might spoil their good relationship. It's difficult; my daughter is tired after school, and she has the babysitter there for fun, to relax, to go to the park, rather than to do more learning.
What advice would you give to a researcher thinking of coming to the Czech Republic?
First, to talk to EURAXESS! And then I would give them some specific recommendations as regards estate agencies, doctors, which area of the city to live in, and so on.
Do you think there's anything EURAXESS could do, which they don't do yet?
Something for children, to help them integrate in the community – sometimes my daughter feels isolated because she doesn't speak Czech. For some children, that's fun – when they meet her, she tries some Czech and they try some English - but some just run away from her, and don't want to play with her. Now we've been in the same place for a couple of years, so most of the local children know her, and try to communicate somehow, so it's getting better. But she hasn't found friends at her school, which is quite painful for her. It's always like that when you live abroad, you never have the close relations to people like you would in your own country, where your parents have friends and family who have children the same age.
And do you see your family often, do you have a chance to go home?
My parents are retired and for them it's much easier to travel, so they are here quite frequently. My daughter's father is a photographer, so travels a lot, and it's also quite easy for him to come to us.
I don't go to Serbia very often, because I like to travel a lot to other places, and also because I belong to the generation who moved away. All my friends moved abroad for, or after university, so my friends are all somewhere else! A couple are in Spain, a couple are in Berlin, and some in Munich, and my best friend lives in LA! Another friend, who lives in Australia, came to Prague for a few weeks last year. People like to come to Prague, I have noticed, so that is really nice.