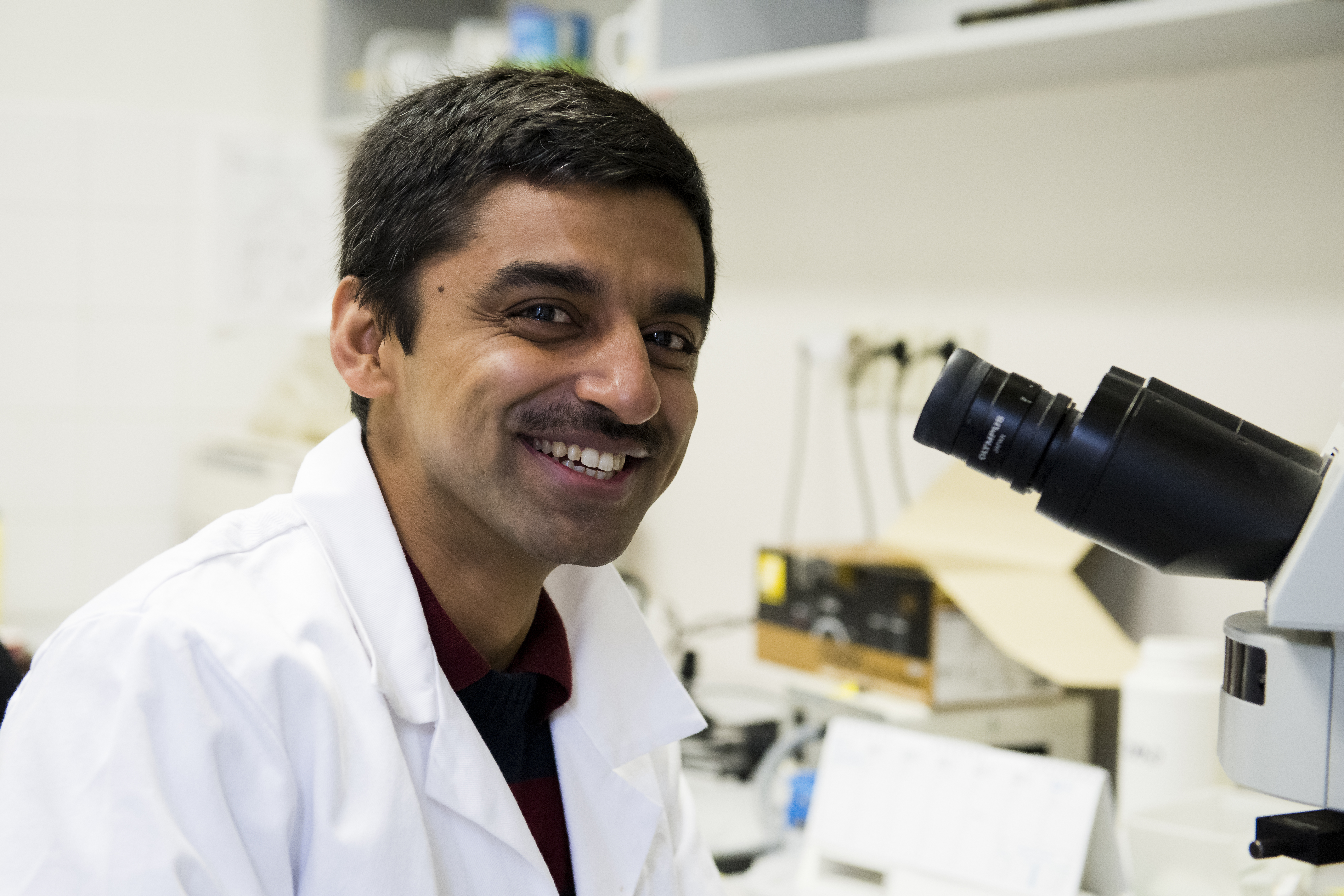 What was it that made you move abroad in the first place?
I come from a very traditional family which has been in agriculture for generations, and I had always been interested in plants and plant research, so I did my bachelors in agricultural science, and then a masters in plant genetics, in India. My dream was to go abroad to learn more, so that I could come back with new ideas, new technology and make India more global.
And how did you end up moving to the Czech Republic?
Well, back in 2010 I had come here for a conference, and ever since then I had wanted to find a way to come and live in this wonderful city. Then I was googling about a topic one day, and found out about the professor here, so I wrote her an email, and she was very kind to reply to me. We had a Skype interview, and she offered me the post doc position, which I was very happy about! Charles University has a programme to promote foreign researchers, which I was selected for – and it was all very easy and quick. I think many people don't know that the Czech Republic was a pioneer in plant sciences in the 19th century and established the science of plant physiology – and also that so much good science is happening here now.
Are you part of a particular research project here?
Yes, I work in a group, with masters and PhD students too, though I also have the freedom to do research of my own, within the field. Most of my group are Czech, and there are a couple of other foreigners too. We speak English in the lab, in our meetings, everywhere, which is great for me, because I can't learn Czech!
Tell me a bit more about the research that you do.
We are working with the plant cytoskeleton, which is the part of the cell composed of microtubules and actin filaments, which gives structure to the plant and is also involved in trafficking and signaling. I am working on the role of the actin cytoskeleton in plant development, and during the course of my research I have found new phenotypes which point to the possible role of actin in cell wall development. We have some pretty interesting results, which we've presented in the USA and twice in Germany, and we have received some very positive feedback. I'm very happy with the work I've been doing here, because it's new and I've had the chance to do it, which is satisfying.
Are you also teaching at all?
I'm not teaching, but sometimes I assist my colleagues with the practical classes. I think language would be a problem for the undergraduates, but I'm thinking of trying it next year, as I would love to teach.
Was it easy to settle in here? Were the Czechs welcoming?
Yes, it was very easy. I stayed in one of those dormitories, koleje, for the first six months, and it was much easier for me to get used to life in Prague than it had been in South Korea, where I had more practical problems. I had already coped with cultural shock in Japan, too, so I was ready for that. When I came, I didn't know any people except those in my laboratory, but they were very welcoming! They went out of their way to help me with practical things, and took me to their cottages, too.
Have you made friends with other foreigners?
Well, to be honest, I haven't really felt the need to look for friends – I do have some foreign friends, but my closest friends are still my colleagues from the lab, I spend a lot of time with them. There is also a very nice community of international researchers, including quite a few Indians, which is nice.
At what point did you discover EURAXESS, and how did they help you?
I knew about EURAXESS since my Japan days, because I attended some international Biology conferences, where EURAXESS had a stand. When I got the job here, my boss got in touch with them and they helped me with the visa process.
You mentioned earlier that learning Czech is a little difficult…have you managed to master a little Czech?
Malinko! I went to language school in the summer last year, for two months, so I learnt something, but I need to practice. I sometimes have problems when I go to places like the post office or hospital, but it is usually manageable somehow. In comparison to other languages, like Korean, Czech grammar is not so difficult for me to understand - we come from the same language family, the Indo-European family.
Do you find the Czechs have a good sense of humour? How do you get along with Czech culture?
They have to have a good sense of humour, this is the country that gave the world Svejk! And it's true – they do. Culturally, I have travelled a bit around the country - Brno, Kutná Hora, Konopiště, and I've been to the National Theatre and the State Opera a few times. But I got the biggest insight into Czech culture last year, after I went trekking and somehow got bitten by a tick. We don't have those in India and I wasn't vaccinated, so I ended up getting Encephalitis – and while I was recovering I stayed in the countryside for a while, in a village. There was nothing there except cows and cats, so it was a very good way to get to know the Czech country for real. It was very interesting!
You must have needed to visit some doctors and hospitals - how were they?
The only thing I found was that sometimes have to wait a lot. But the medicine and treatment is good, I would say, they took good care of me.
I understand you're here with your wife – did she come with you, or only later?
She came only this year - we have a small son, who has just turned one, so they were in India when he was small, and they needed to get all the paperwork done before they came over.
They must have been excited about moving to Prague?
Yes they were, especially my wife! She was a journalist and a TV anchor, in India, and she writes, so she was fascinated about coming here – I told her a lot about the food too, especially the breads, rohlík, and desserts, and she loves cooking so she was very keen to discover the new things here. She meets my friends and their families here more often than I do, now, because she needs to learn Czech cooking!
How is she getting along with that?
She is getting on well, and she has also found some good friends here in Prague, so she has created a good life for herself. In fact it was quite good luck for us that across the street from our apartment there is a kindergarten, where she now goes as a volunteer to teach English twice a week, and they don't mind if she brings our son along and he plays while she is teaching. It is great for her, while our son is young and before she finds a good opportunity in her main field. And he is acclimatizing well, too.
It sounds like you're settling in well. Do you ever feel homesick?
Sometimes yes, but we have to cope with that. When we are homesick, we invite lots of friends for dinner and we cook a lot of Indian food, that's how we cope!
How do the rest of your family feel?
Most of my family is still in India, but all my family and friends from all over the world are happy that we are in Prague, because they can come and visit and see this wonderful place! At Christmas we will have 7 guests – my brother and sister, and some friends from Japan.
Do you think that eventually you'll want to return to India?
Eventually, yes – but I'd like to spend some more time here first. I would like to stay in Prague for some time, because the work culture is very good. There are two reasons – one is academic, because I'd like to achieve something more in my research career before I move on, and the second aspect is that I have nice friends here, and I don't want to start again by going to a new place.
Have you travelled around Europe a bit while you've been here?
Yes I've been to Germany a few times, and another good thing is that being in the Czech Republic doesn't just mean doing research here, because for example I'll be going to Germany soon for a few weeks, to learn some new techniques. It's accessible – being in the EU, you can collaborate internationally easily, and visit different laboratories to learn new techniques. And if you're living here, you have the advantage of seeing the part of Europe that people usually miss – so many places are easily accessible from Prague, by rail and bus, you can go for weekends to Vienna, Salzburg, Budapest. We are planning our next trips to Olomouc and maybe to Krakow.
Do you have a favourite place in Prague?
I have two favourites, one is Café Louvre, and the second is Náplavka, where the farmers' market is. There is a place there where you can sit and feed the swans, and that's my favourite spot.
Which part of India are you from – is there a river there?
From north India, Allahabad. It is the place where the Ganges river and the Yamura river meet.
So I suppose your hometown is quite far from the sea, too?
Very far! And there is one thing about that, which I really like, which is that the carp the Czechs eat here is really similar to what we eat at home in India, because we also eat river fish. That was something I missed elsewhere, even when I was in Japan where they eat a lot of other fish!
Do you think there's anything EURAXESS could help families like yours with, which they don't at the moment?
Well just one thing really – I think EURAXESS could be a medium to get all the international researchers' wives and families together, it would be a good platform. So perhaps it would be good to provide a forum where not only researchers but also their families can just come and sit, and talk.
What advice would you give to another Indian family that was considering coming to do research here?
I would say that the Czech Republic is doing good science, and even though Prague is a capital city, it's not as expensive as many cities. Many people think that the salaries we get in the Czech Republic are low, compared with Germany or other places. They are lower, but they are not bad – it's possible to live comfortably on the salary you get here.
So my advice is to come with an open mind, and do good science. Problems can happen anywhere, so just come with an open mind and be positive.
And you're feeling positive at the moment about the future here?
Absolutely!